Wine Lounge
Coming from our intimate lounge kitchen, elevate yourself to our second level and enjoy the warm, inviting atmosphere in our wine lounge with our tapas-inspired menu allowing you to have just a bite or a filling meal. Boasting an open concept kitchen and 3 intimate patios for the summer nights. Enjoy selecting your own cheeses from our cheese list or indulge in variety of local and international charcuterie. Share amongst friends or family, our signature antipasto platter or our famous P.E.I. mussels in a garlicky white wine cream. Explore unique wines with 18+ offered by the glass or take flight with 3 different wine side by side. Beer is not overlooked either with 25+ unique brews.
Please note we don't take reservations in the wine lounge for parties of less than 6 guests. If you are interested in booking a larger group please call or email us to confirm at 403.678.4878 or reservations@sagebistro.ca.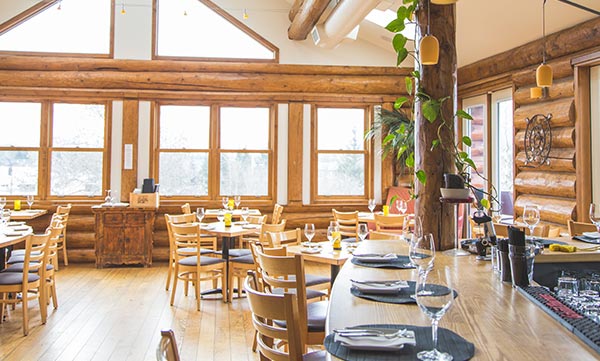 ---
REMINDER: ALERT US OF ANY AND ALL ALLERGIES BEFORE ORDERING!


SNACKS & SMALL PLATES
Oil & Balsamico - gfp
Parthena olive oil + 10 yr aged balsamico + fresh baguette
House Mixed Olives - gf
Rosemary + garlic + chili
House-made hummus dip - gf
Chickpea + honey + garam masala +
Garlic + lemon juice + tortilla chips
3 Panko arancini risotto balls
Bocconcini stuffed + basil + toasted pine nuts +
Grana Padano cheese + tomato sauce
Mushroom & Gruyère flatbread
Roasted organic mushrooms + Gruyère
Garlic butter + truffle oil + balsamic reduction
Alberta Beets - gf
Fairwinds farm goat feta + crushed cashews
Ice wine vinaigrette + pickled onions + butter leaf
Seared sea scallops - gf
Garlic-parsley foam + wild boar bacon +
Arugula
P.E.I. Mussels
Roasted garlic + shallot + cream
White wine + scallions + baguette
3 Pork & beef meatballs
Brandt Lake Wagyu beef + Berkshire pork +
tomato sauce + Grana Padano cheese
Hearty pork & beef chili
Ground beef and pork + kidney beans +
White beans + chili + celery +
melted cheddar blend + sour cream
Sautéed Vegetables
Seasonal market vegetables + Balsamic syrup +
Roasted-garlic butter + almonds + shaved parm
Warm crab & Asiago dip
Lump crab meat + cream cheese + chive
Fresh lemon wedge + grilled pita bread
Chicken satay skewers
3 sous vide & grilled chicken breast skewers +
soy-chili peanut sauce + cilantro
Duck leg confit
Duck fat braised leg + Red wine-shallot sauce
Pepper-crusted beef carpaccio
Rare-seared, thinly sliced beef tenderloin +
Arugula + Asiago + fried capers +
Garlic-Dijon aioli + Maldon salt
CHARCUTERIE BOARDS
Rotating house selection of local and international Charcuterie. Served with accoutrements of
Maple-Dijon mustard + roasted pepper coulis +
pickled vegetables + bread + crackers
CHEESE BOARDS
Rotating house selection of local and international Cheese.
Served with blackberry-fig jam + mixed seeds and nuts + fruit + crackers
CHEESE & CHARCUTERIE BOARDS
Prepared as described above
1 SELECTION EACH $18. 2 EACH $33. 3 EACH $48